Office Intelligent Services
Microsoft Office contains many useful features, including a language translator and PowerPoint Designer. But when you try to use these features, a prompt may ask you to activate Intelligent Services first. While it may seem like an easy decision, you should consider what you're agreeing to when you decide to turn on Intelligent Services.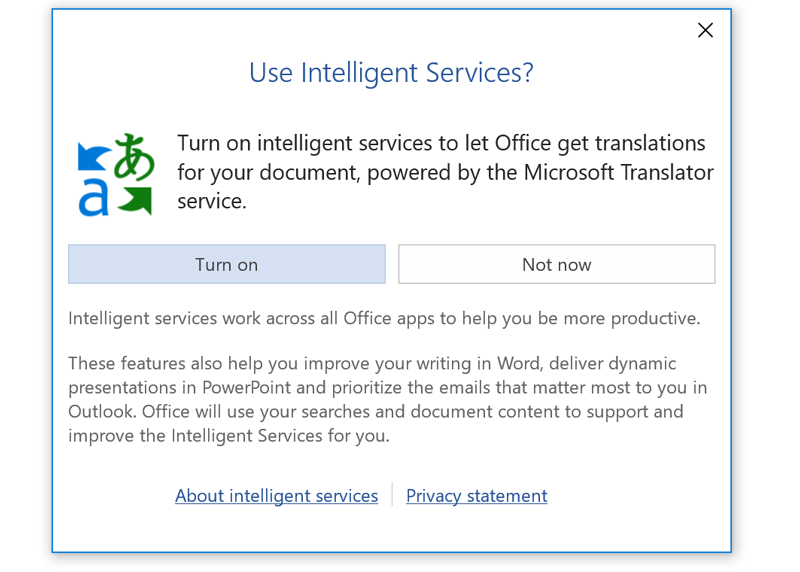 What are Intelligent Services?
Intelligent Services power several cloud-enhanced features throughout Office. In order for these features to work, however, Microsoft must collect and analyze the contents of your document. In addition, it will collect data on how you use Office.
Should you use Intelligent Services?
Before deciding whether to enable Intelligent Services, you should first know what Microsoft does with the data it collects. According to its privacy statement, it uses collected data for things like product development, research, and targeted advertising.
Before activating Intelligent Services, ask yourself if you're comfortable with Microsoft having access to your work. If you're concerned about the company collecting your data or seeing confidential documents, you may not want to use any Intelligent Services-based features.
Activating Intelligent Services
By default, Intelligent Services is turned off, and you have two ways to activate it.
The quickest method is to select an Intelligent Services-based feature, such as Translate. A prompt will appear, asking you to turn on Intelligent Services. Simply click Turn on to enable it.
The other method involves a few more steps.
Click the File tab in Word, Excel, PowerPoint, or Outlook.

Click Options.

Click the checkbox labeled Enable services, then click OK.
Notable features
PowerPoint Designer can analyze the images, lists, and text in your presentation to generate professional-looking slides, and it uses Intelligent Services to give you more personalized suggestions.
To use it, select the Design tab, then click Design Ideas on the right. As you add elements to your slide, the feature will update with new ideas. It'll even give you suggestions if you have a completely blank presentation.
Keep in mind, however, that PowerPoint Designer is exclusive to Office 365 subscribers.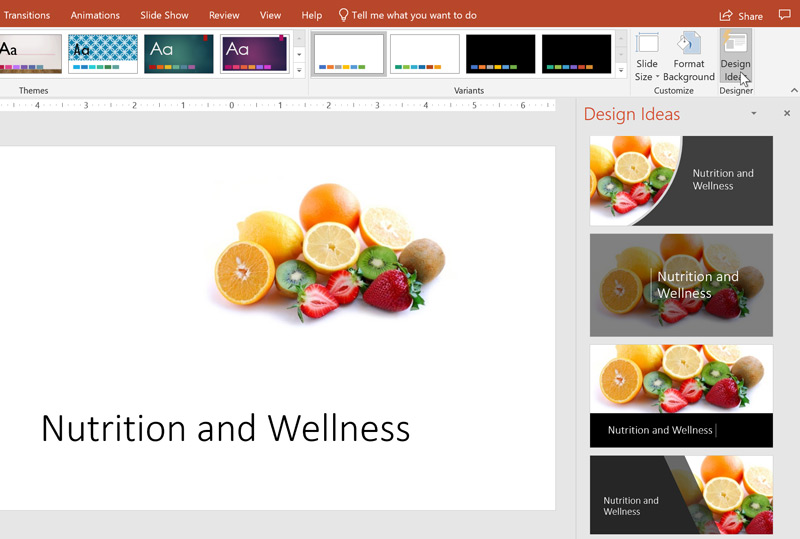 Smart Lookup allows you to conduct an online search of a word or phrase within Word, Excel, or PowerPoint. To use it, right-click a term, then select Smart Lookup. A window will appear on the right, giving you the most relevant search results and definitions.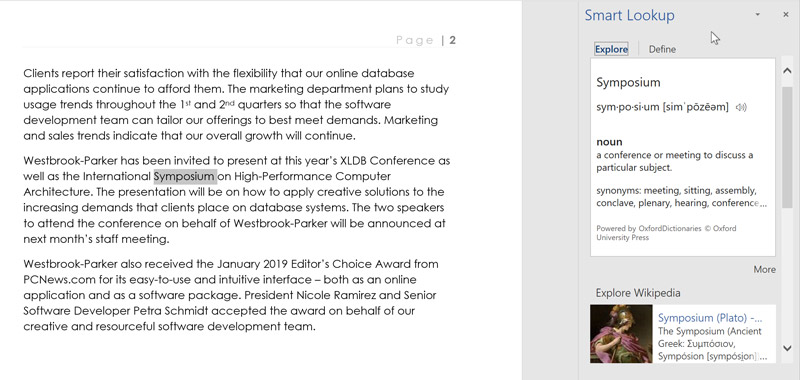 To use Translate, simply right-click on a word or phrase, then select Translate. You can then translate your selection into dozens of languages.
Keep in mind that this feature isn't perfect, so don't be surprised if the results aren't totally accurate.
Office 365
It's worth noting that some Intelligent Service-based features, like the PowerPoint Designer, only work with an Office 365 subscription. Microsoft also plans to add more Intelligent Service-based features to Office 365 in the future. Upcoming features include Ideas in Excel, which suggests different ways to display your data; and the LinkedIn Resume Assistant, which uses the entire LinkedIn database to help make your resume stand out.
From presentation ideas to Smart Lookup, Intelligent Services can provide a number of useful features if you're comfortable with Microsoft collecting your data.